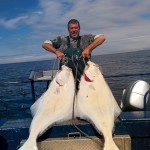 Captain Steve Hardie

   I specialize in catching large and aggressive Salmon, Halibut, Ling cod and Snapper. After a full day on the water you will have caught a tremendous amount of fish. I have been fishing the waters off Prince Rupert for twenty five years. I know all the secret fishing holes. Depending on the wind and waves I will find a calm spot where the fish are biting.
The Department of Transport has certified my boat the Orca Mist to be seaworthy and in possession of all the safety gear needed to have an enjoyable trip and all the correct tickets to operate in Rupert waters.   I currently have my Marine Emergency Duty ticket, a Restricted Radio License and my St John First Aid ticket. I have also passed my Chart Work and Rules of the Road test. Just lately the Department of Transport has made it mandatory to possess a Small Vessel Proficiency Ticket as well.